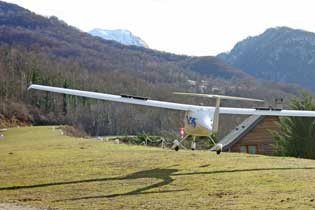 We are living at one of the nicest part of the Pyrenees. Spain is 5 min flight from our house. Within a 100 km range there are about 30 airfields. The nearest one is Saint Girons (LFGH). There, you will always found some space in a hangar for your plane and it will be a pleasure for us to pick you up there.
For the pilots that are used to land in short mountain airfields, we dig a runway above our gites. The runway is on the side of the mountain. It is 300 meters long by grass at 3000 feet and at N 42.51.06 - E 1.17.47
The slope up is increasing the last 150 meters. There are often some animals grazing on the airfield. If you don't feel it, don't land. Go to Saint Girons airport. We will pick you up there and we will suply you with a car. (an old 2CV Citroen).

A short film by René Caissy during a stay at Souleilo:

Pour l'amour du ciel ICI
The meeting between French and Spanish at the Col de Salau on the occasion of:

la Poujada ICI
The journey in our nearby mountains of Phil. Warrener from England:

Microlighting in the Pyrenees

ICI




Saint Girons Airclub
For anyone interested in aviation sports you can rent airplanes and gliders or ultralight planes at the St Girons airport.
For novices, you can take flying lessons. Contact Saint Girons airport. They have reasonable prices. Instructors and pilots will do their best to please you. You probably will leave with unforgettable memories.